On this page

The Crown Response Unit is responsible for coordinating the Government's response to the Abuse in Care Royal Commission of Inquiry. The information below describes our response as we work through the Royal Commission's interim report and recommendations.

Stay up to date: If you would like to stay up to date on our work programme, please email: contact@abuseinquiryresponse.govt.nz with 'Pānui' in the email subject line.
Survivor-led design of a redress system
In December 2021, the Royal Commission issued a redress report(external link) that identified failings in the Crown's approach to providing redress. Based on that report the government committed to develop a new independent, trauma-informed redress system for people abused or neglected in care. This would replace existing claims processes run by government agencies and non-State groups such as faith-based institutions.
It was agreed the high-level design of the new system would be developed by a survivor-led design group supported by an advisory group drawn from diverse survivor communities.
Appointments
The Minister has appointed 10 members to the Design Group and 16 members to the Advisory Group for a six month term.
The members, together with the already appointed Design Group Co-chairs, provide strong Māori representation with 19 members identifying as Māori. Other members represent Pacific peoples, Deaf and disabled people, rangatahi, and LGBTQI+. There is also strong representation from both state and non-state abuse survivors.
Collectively their experiences provide key perspectives needed to assist in the high-level design of the system.
Additional disabled and youth perspectives will be sought by alternative means in the high-level design process. The Crown Response Unit will work with the Co-chairs to identify the most appropriate arrangements to secure the needed perspectives and ensure a range of voices are heard.
The Design Group members are:
Dr Filipo Katavake-McGrath
Māhera Maihi
Tyrone Marks
Te Pare Meihana
Paora Moyle
Bernie O'Donnell
Dr Michael Roguski
Tupua Urlich
Keith Wiffin
Dr Steve Winter
The Advisory Group members are:
Kararaina Beckett
David Crichton
Dr Alison Green
Joanna Ilolahia
Toni Jarvis
Bianca Johanson
Denise Messiter
Heidi Nayak
Sevia Nua
Fleur Ramsay
Paora Sweeney
Frances Tagaloa
Jacinda Thompson
Jenni Tupu
Emma West
Matthew Whiting
The Minister for the Public Service has appointed Co-chairs Dr Annabel Ahuriri-Driscoll (Ngāti Porou, Ngāti Raukawa, Ngāti Kahungunu) and Ruth Jones QSM (Ngāti Porou, Rongowhakaata).
The Design Group Co-chairs were appointed independent of the public nominations process. As set out in the November 2022 Cabinet paper (proactively released here(external link)) the Minister directly appointed the Co-chairs in consultation with the Minister for Māori Crown Relations and through the normal Cabinet Appointments and Honours Committee process.
Officials consulted with the Iwi Chairs Forum and provided the Minister for the Public Service with names of potential candidates for the roles. It was decided to have two Co-chairs, with at least one of the chairs being a survivor, given the significant leadership work required and the weight of the responsibility to support the wellbeing of those involved.
The Co-chairs issued a statement about their appointments on Monday 17 April 2023.
Biographies
Co-chair Dr Annabel Ahuriri Driscoll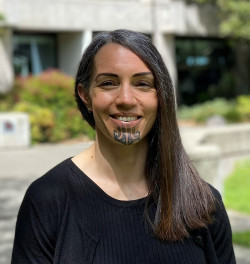 Dr Annabel Ahuriri-Driscoll is a Senior Lecturer in the School of Health Sciences at the University of Canterbury, with a focus on and background in Māori public health. Dr Ahuriri-Driscoll has a significant publication record and is highly regarded in public health. Dr Ahuriri-Driscoll is a survivor. 
Dr Ahuriri-Driscoll's leadership experience is based in the health and academic sectors, with board experience on advisory, health, and community trusts – including the Cancer Society, Health Research Council, Ethics Committee on Assisted Reproductive Technology, and the Council of Academic Public Health Institutions Australasia.
Co-chair Ruth Jones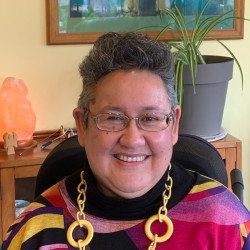 Ruth Jones is co-director of a disability consultancy and an experienced facilitator and disabled leader. Ruth and her husband are proud to lead Hei Whakapiki Mauri, a Whānau Ora entity supporting tangata and whānau whaikaha. Ruth has lived experience of closed adoption. She also has a strong track record of working in diverse communities. Her community leadership and service to disabled people was recognised by a Queens Service Medal in 2014.
Ms Jones has extensive government and community governance experience. She is currently a member of the Oranga Tamariki Ministerial Advisory Board and member of Te Tauraki the Iwi Partnership Board for the Ngai Tahu takiwai. Past appointments include the Enabling Good Lives Governance Group and National Taskforce for Action on Violence within Families.
Appointment process of the Design and Advisory Groups' members
In December 2022, nominations were called for members of these groups. More than 100 nominations were received. The Minister for the Public Service then appointed an independent candidate panel to review the nominations. The members are:
Tu Chapman (Chair)
Gary Williams
Rahui Papa
Amanda Hill.
Information about each of the panel members can be found here: Information about Panel members [PDF, 213 KB]
In early 2023, the independent candidate review panel reviewed the nominations and prepared a shortlist of candidates. The panel conducted interviews of the shortlist and made recommendations to the Minister for the Public Service – who made the final appointments.
The work of the Design and Advisory groups
The Redress Design Group will produce high-level design proposals to provide to the Minister for the Public Service. The high-level proposals will cover:
comment on the system's intended principles, purpose, functions, and scope, with the option to outline a strong case for alteration to any of the specific aspects, especially from a Treaty perspective
how the system should safely connect with and support survivors to navigate their redress journey – how redress needs to "look and feel" to give survivors confidence in the redress system and to provide them with a safe, accessible, trauma informed, and culturally responsive experience
the types and mix of services and supports that should ideally be provided as part of each function
feedback on draft apology and payment frameworks, example redress models and proposals prepared by the Crown Response Unit, with a focus on what is needed to support meaningful recognition of the harms people have experienced
an outline of the critical issues that will need to be considered in the detailed design and implementation planning, including cost estimates and phasing of implementation.
The Advisory Group or its sub-groups would provide advice and feedback to the Design Group on major elements of the high-level redress design before the Design Group's final recommendations are made to the Minister. Subject to Cabinet decisions, further detailed design and implementation work will continue after that, with ongoing survivor involvement.
The Cabinet Papers related to the work of these groups has been proactively released on the Crown Response website.
How they will work
The work programme of the Redress Design Group and the Advisory Group will be agreed by the Chair and the members.
Appointed members to both groups will be paid for their time and expenses.
Both groups will mainly work from their own homes or offices, and have access to a computer with email, Word, Teams/Zoom. Arrangements will be made for people who cannot access a computer. They will also receive any 'reasonable accommodations' needed to support them to participate.
The Royal Commission recommendations
The Redress Design Group follows recommendations of the Royal Commission on Abuse in Care. In December 2021, the Royal Commission published its report on redress(external link) – "redress" includes things like claims and apologies that may help recognise the profound harm suffered by survivors of abuse in care.
The report's main recommendation was to set up a new redress system, puretumu torowhānui, independent of government and churches, to restore the power, dignity and standing of those affected by abuse in care. At the time the report was released, the Government announced(external link) it would design a new scheme as recommended.
The new redress system is a major initiative for communities that have experienced trauma from abuse in care over many decades. Designing it is a complex task that will take some time, because of the diverse needs of different survivor communities.
Improving support for survivors of abuse in care
The government is improving its support for survivors of abuse in care while a new independent redress system is being designed.
On 9 August 2022 Public Services Minister Hon Chris Hipkins announced(external link) that work was under way on three immediate projects:
Work is also underway on preparing a national apology to abuse in care survivors.
Read the first Immediate Projects Cabinet Paper [PDF, 2 MB] released on 9 August 2022.
This work is being coordinated by the Crown Response Unit and guided by previous engagement with survivors, including the views of hundreds of survivors that informed the Abuse in Care Royal Commission of Inquiry's interim report on redress(external link), released in December 2021. Additional advice and guidance from survivors, experts and others will also be sought.
1. Rapid payments
The Government announced(external link) on Tuesday 13 December 2022 rapid payments for historical abuse claimants. Rapid payments are not part of the new, independent redress system – they are being run by existing claims agencies. The first set of rapid payments are being made by the Ministry of Social Development (MSD), which has about 3000 historic claims – more than 90 per cent of all the current historical claims being processed by four government agencies. The Ministry is prioritising rapid payments for survivors who are seriously ill or unwell, aged over 70, or have waited the longest to get their claims considered.
To find out more please contact the Ministry of Social Development: 0800 631 127 or visit its website.(external link)
2. Survivor experiences service
The Government is progressing its response to the Royal Commission's recommendation to provide an avenue for survivors to share their experiences between the Royal Commission's conclusion of its private hearing sessions and the establishment of the new redress system.
From July 2023 a survivor experience service will be established to provide a safe, confidential and supportive, place for survivors of abuse in care to share their experiences.
The service will be housed within Te Tari Taiwhenua, the Department of Internal Affairs and an independent board with a strong survivor voice will be established to oversee the service. Details about the service and the board will be announced soon.
3. Easier records access for survivors
The Royal Commission found that many survivors had difficulty getting their records quickly and fully. The problems included lengthy delays, or getting incomplete or heavily redacted information.
The Government recognises there are many issues around the creation of, and access to, survivor records. Officials are working with survivors and experts on some immediate improvements to how survivors access their records.
On 8 May 2023, the Crown Response published a shared redaction guidance document [DOCX, 189 KB] that helps staff in the organisations or government agencies decide whether to redact information that has been requested by care leavers. The Crown Response has also published online guidance for those asking for any personal records about their time in care.
4. Preparing for a public apolog
y
The Royal Commission recommended the Crown and relevant faith-based organisations should publicly acknowledge and apologise for the tūkino, or abuse, inflicted and suffered after it has delivered its final report. It also recommended some groups, including Māori who were over-represented in State care, should also receive specific apologies.
The Crown Response Unit has started working on Crown apologies and is involving:
survivor groups

tikanga experts

representatives from other communities impacted by abuse in care.
Further recommendations relating to apologies may be made by the Royal Commission, and these will be carefully considered.